Finance available | Innovative technology
ALLUX-Q 
Preserving you with technology
ALLUX-Q irradiates laser of single wavelength – 1064nm or 532nm – toward the skin for a very short time (nano second level) and transforms optical energy into thermal energy. Using the selective photothermolysis and heat resolving principle, it protects the normal skin but destroys and treats the pigment lesions. In addition, it absorbs tattoo ink by resolving the target pigment into fine particles.
"We are passionate about leading the way by continually enhancing our technology to develop risk free and sustainable lasers of the future to improve and change the lives of many."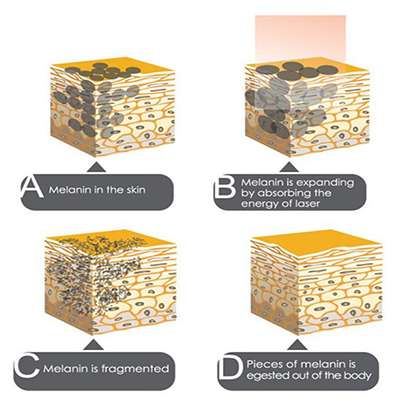 What is the Selective Photothermolysis?
A principle under which the normal skin can be protected while the pigment areas are absorbed and destroyed by the laser selectively.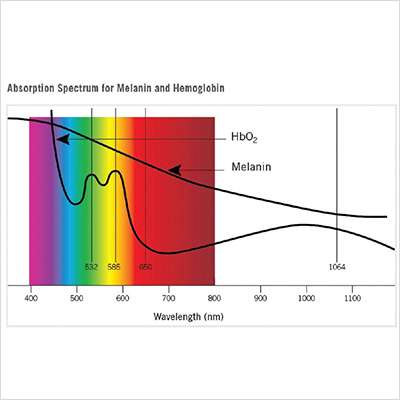 Absorption Spectrum for Melanin and Hemoglobin
As shown in the figures, the laser of 1064nm penetrates deep into the skin, while the laser of 532nm and 1064nm absorbs red oxyhemoglobin and reddish brown melanin respectively.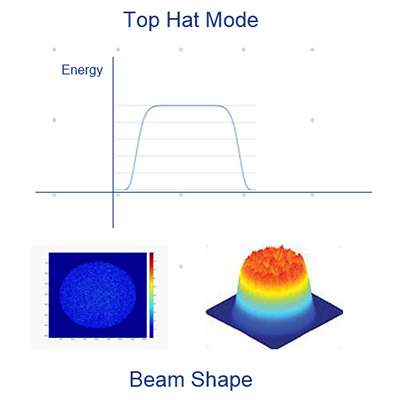 Top Hat Mode
Top Hat Mode Beam provides that evenly energy can be evenly irradiated at targeted skin area.
It makes proper treatment and can minimize skin damag
Single and Double Pulse (PTP)
ALLUX-Q offer energy delivery in both Single Pulse and Double Pulse (PTP) modes.
PTP technology disperses the laser energy into two consecutive pulses, mitigating peak power while delivering maximum energy of up to 1.8J per pulse.
By creating a Top Hat beam, maximum energy may be delivered evenly over the skin without risking epidermal injury. Both single pulse and double pulse are available in both the Q-Switched 1064nm and Q-Switched 532nm wavelengths.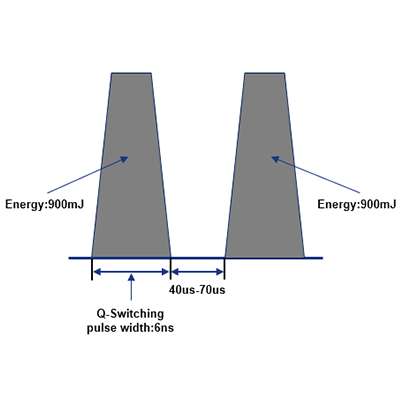 There are a total of six wavelengths available with this device. It is highly effective against pigmentation, safe with no side effects and can be utilised in many treatments, as shown below. Most importantly, it ensures normal skin is protected whilst destroying pigment lesions simultaneously.
Applications include: Tattoo Removal, Toning, Fine Wrinkles, Nevus of Ota, Abnom, Cafe Au Lait Spot, Seborrheic Keratosis, Hyper pigmentation and Freckles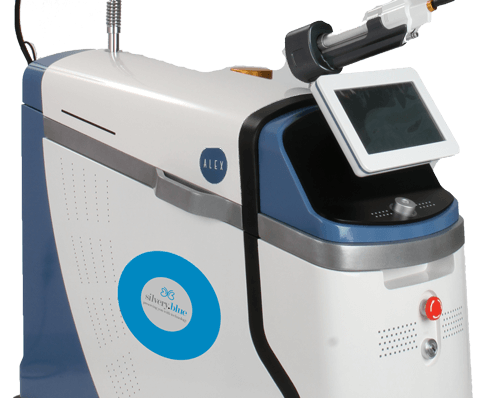 Six Wavelengths Available
Standard: 532nm, 1064nm
Optional: 585nm, 595nm, 650nm, 660nm
Adjustable Spot Size
2-10mm

Effective
Highly effective against pigmentation
Modes
Flat-Top-Mode Applied (New concept of BMO method by optimizing beam mode)
It also includes various optional hand pieces as follows:
Zoom hand piece (2-10mm)
532nm and 1064nm fractional hand piece
585nm and 595nm dye hand piece
650nm and 660nm dye hand piece
The fractional hand-piece uses fractional beams (360 spots, 16x16mm) to allow
higher fluence (J/cm2) compared to the bulk mode hand-piece, allowing it to
effectively destroy various pigmentations which were hard to treat before.
Silvery Blue aims to reshape the healthcare and aesthetic industry with innovative ideas & technologies while preserving the essence of natural health and well being of human being. Our strategy is to empower medical and aesthetic professionals around the globe with a holistic approach to treatment and care. We provide a complete one stop solution from training, treatment, equipment supply, product delivery to quality control and compliance; all under one umbrella - "Silvery Blue".
| | |
| --- | --- |
| Laser Type | Nd:YAG Laser |
| Wavelength | Standard: 532, 1064nm |
|   | Optional: 585, 595, 650, 660nm |
| Pulse Duration | 532 / 1064 – (5-6ns) |
| 1064 Genesis | 330us |
| Output Power | 532 – (50-500mJ) |
| 1064 Single | 100-1000mJ |
| 1064 PTP | 100-1800mJ |
| 1064 Genesis | 100-2300mJ |
| 585 / 595 | 50-250mJ |
| 650 / 660 | 50-150mJ |
| Spot Size | 2-10mm(532, 1064) |
|   | 2mm(585, 650) |
|   | 3mm(595, 660) |
| Frequency | 1-10Hz |
| Power Supply | 220-240V~, 50/60Hz |
| Cooling System | Circulated Water Cooling |
| Dimensions | 410(W) x 950(D) x 1000(H)mm |
| Weight | 95kgs |
| Display | 10.2" Touch Screen Color LCD |
| Optional Hand-piece | 585, 595, 650, 660 DYE Hand-piece |
|   | 532&1064 Fractional Hand-piece |
|   |   |