"ITS SO GOOD THAT WE ALL HAD IT DONE" – WHC Nurses

Call me back
Incontinence
Regain Control Over Incontinence. Our compassionate team specializes in effective treatments for incontinence, offering tailored solutions to improve your quality of life. From pelvic floor exercises to advanced therapies, we provide the support and expertise you need. Don't let incontinence hold you back. Explore our options and take the first step toward a life with confidence and comfort.
Vaginal Tightening
Rediscover Confidence with Vaginal Tightening. Our specialized treatments offer safe and effective solutions for vaginal rejuvenation. Experience improved tone, sensitivity, and comfort with personalized care from our expert team. Regain intimacy and self-assurance with our discreet and transformative procedures. Unlock the benefits of vaginal tightening and take a step towards a more fulfilling life.
Vaginal Laxity
Enhance Intimate Wellness with Vaginal Laxity Solutions. Our dedicated team specializes in restoring vaginal tightness and tone for improved comfort and confidence. From non-surgical options to advanced procedures, we offer personalized treatments to address your unique needs. Reclaim your intimacy and well-being with our discreet and effective solutions. Rediscover the joy of intimate connections with vaginal laxity care.
Vaginal Dryness
Relieve Discomfort with Vaginal Dryness Solutions. Our specialized treatments provide gentle and effective relief for vaginal dryness. Tailored to your needs, our therapies enhance lubrication and comfort. Rediscover intimacy, reduce discomfort, and improve your quality of life with our expert care. Don't let vaginal dryness affect your well-being; explore our discreet and personalized solutions today
Vaginal Atrophy
Combat Vaginal Atrophy with Effective Solutions. Our expert team specializes in addressing vaginal atrophy, restoring comfort, and revitalizing intimacy. Personalized treatments, including hormonal and non-hormonal options, enhance moisture, elasticity, and overall well-being. Reclaim your confidence and enjoy a fulfilling life with discreet and effective care. Say goodbye to vaginal atrophy and hello to a more comfortable you.
Prolapse
Reclaim Your Comfort with Prolapse Solutions. Our dedicated team offers comprehensive care for prolapse, tailoring treatments to your unique needs. From non-surgical options to advanced procedures, we restore pelvic health, alleviate discomfort, and enhance your quality of life. Regain confidence and well-being with our discreet and effective solutions. Don't let prolapse hold you back; explore your treatment options today.
Reduced Vaginal Sensation
Revive Sensation and Intimacy with Personalized Solutions for Reduced Vaginal Sensation. Our experienced team specializes in restoring pleasure and comfort. Through tailored treatments and therapies, we address the root causes, enhancing sensitivity and overall well-being. Rediscover the joy of intimacy and strengthen your connection. Regain confidence with discreet and effective care for reduced vaginal sensation
Dyspareunia
Overcome Dyspareunia and Rediscover Comfort. Our compassionate team specializes in treating dyspareunia, offering personalized solutions to alleviate pain during intercourse. With expert care and tailored therapies, we address the underlying causes, allowing you to enjoy intimacy without discomfort. Reconnect with your partner and regain your quality of life. Explore discreet and effective dyspareunia treatments today.
U Tract Infections
Combat U Tract Infections (UTIs) with Expert Care. Our dedicated team provides effective solutions and preventative strategies to tackle UTIs. From diagnosis to treatment, we offer personalized care to alleviate discomfort and promote urinary health. Regain comfort and peace of mind with our expert guidance. Don't let UTIs disrupt your life; explore our comprehensive UTI management today.
Lichen Sclerosus
Find Relief from Lichen Sclerosus with Specialized Care. Our experienced team offers tailored treatments to address the discomfort and itching caused by lichen sclerosus. With personalized therapies and expert guidance, we aim to alleviate symptoms, improve skin health, and enhance your overall well-being. Regain comfort and confidence with discreet and effective care for lichen sclerosus.
Treatment Highlights - NuV Non Surgical Vaginal Rejuvenation
No pain or infection risk
Relief from stress incontinence
A tight and youthful vagina

The Story - NuV Non Surgical Vaginal Rejuvenation
Why was Nu-V created? Founding Director and urology nurse Emma explains…
Developed by the Women's Health Clinic Managing Director, Emma Soos, Nu-V is proud to be the worlds first laser both developed and delivered by nurses.
Nu-V is delivered by specialist women nurses. It uses a uniquely-designed laser probe enclosed within tube to protect both the probe and the skin. Nu-V uses innovative CO2 laser technology to carefully heat & damage the tissue surface safely, contracts existing fibres and helps to stimulate the formation of new collagen. It increases normal blood flow which helps to restore the strength and elasticity of the vaginal tissue as well as improve other vaginal problems like vaginal laxity, tightening, dryness, painful sex, vaginal atrophy, Lichen sclerosis, stress incontinence etc.
Emma, a specialist in urology and lasers, first began to look further into the treatment when she was offered no relief for her own post-partum issues on the NHS.
Nu-V was developed in 2016 and has since been used to treat thousands of women both in the UK and beyond. Relieving issues of laxity, incontinence, atrophy and sexual dysfunction, the laser is a beacon for women suffering from a lack of understanding in the health care service.
Now, with her team of specialist, trained nurses who have all experienced the Nu-V treatment themselves, Emma is pleased to see her own invention being used across The Women's Health Clinics, bringing satisfaction to women the UK over.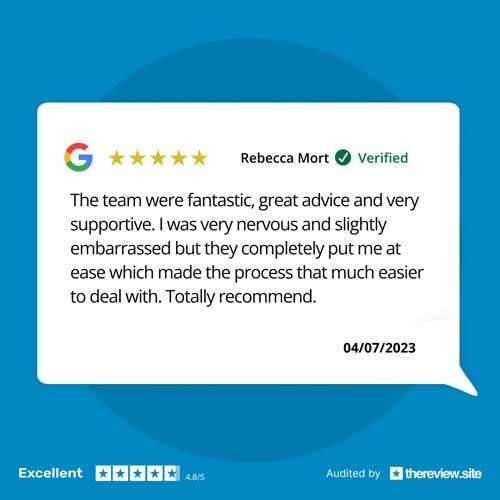 Pricing - NuV Non Surgical Vaginal Rejuvenation
FREE telephone consultation

Nurse consultation

In depth assessment

1 of 3 recommended treatment
FREE telephone consultation

Nurse consultation

In depth assessment

3 treatments within 12 months
Review with assigned practitioner

Triple pack must be completed within 1 year
Follow-up consultation after 12-18 months following Nu-V programme

Nurse assessment

1 Nu-V treatment
Do You Have Any Questions?
Where can I get the Nu-V treatment?
Is it safe ?Will this improve my sex life ?Nu-V is available on all of our clinics.
What equipment do you use for the Nu-V Treatment ?
Our own specially designed CE Medical Approved laser & RF system which is totally safe and highly effective.
Is this a cosmetic procedure ?
No, this is a medical procedure that must only be carried out by specially trained Nurses who are certfied to deliver the treatment.
Is there any pain or downtime after the treatment ?
There is no downtime, you can return to normal daily activities straight away, except for going to the Gym or Swimming. We recommend you take a 5 day break from these activities.
Some Patients have report a mild tingling, sunburn sensation or itching sensation for a few days, this is perfectly normal. Some patient report this is comparable to intimate waxing. You will have direct contact with a Nurse should you have any post-treatment concerns.
Is it painful ?
Most Patients report a "vibrating" feeling, we have no records of Patients reporting pain leading to abandonment of the procedure.
Does this mean I don't need to have Labiaplasty ?
Our Nu-V technology will rejuvenate the labial tissue to shrink. Some patients feel that the result is satisfactory whilst others may wish to explore a more permanent options. Our nurse will discuss this with you.
How many treatments will I need ?
Each patient is different and your Nurse will advise. The recommendation is 3 treatments in a 12 month period. This is based on extensive clinical studies. However each patient is unique and can choose fewer or more treatments as they wish.
What happens aesthetically ?
Your practitioner will focus the specially designed head of the laser at the surface of the outer area of your vagina and with each pass the tissue will contract, the labia will shrink and you will experience improved blood flow around the clitoral area, which leads to heightened sensitivity, and many Patients report more intense orgasms.
How soon can I have sex after the treatment ?
How soon can I have sex after the treatment ?
We recommend 4-5 days, but you will know when you are ready. Ask your Nurse at the point of treatment if you are unsure.
How do I know if it works ?
You will experience tightening both internally and externally. Many patient report heightened sensual pleasure, lubrication and relief from symptoms such as leakage when you cough, incontinence and overall better health in that area.
How soon will I see results ?
This varies from patient to patient due to the nature of the tissues reaction to the Nu-V laser technology. It is normal to expect a progressive improvement over time. This is particularly true for those opting for triple plan.
How long does the treatment take ?
The treatment is very short. The treatment time is 15-20 minutes within your 45 minutes consultation giving you ample time to discuss your health issues with your nurse.
Is this treatment suitable for everyone?
Nu-V is suitable for the majority of our patients, but just to make sure all new patients undergo a free initial telephone consultation with our specialist nurse.
How does Nu-V work?
The best thing to do is watch the explainer video, it will show you everything you need to know.
Here's a link to it.
Is it safe ?
Perfectly. The procedure is always carried out in a medical clinic by fully trained and experienced nurses.
What can I expect after the treatment?
Patients report improvement is sensitivity, penetrative pleasure, orgasm, wetness, confidence, tightness, and find their vagina more aesthetically attractive after the treatment.
What makes Nu-v such a good treatment ?
It is reported that up to 80% of women will suffer from vaginal laxity and the associated problems between the ages of 35 onwards. Until now, there has been no coherent and effective care pathway available, and as such a lot of women suffer in silence.
Nu-V is clinically proven, long lasting, highly effective and the results get progressively better.
How does Nu-V compare with other technology?
In recent years, the popularity of non-surgical vaginal rejuvenation has soared among women aiming to enhance their sexual health and overall well-being. Advanced medical technology now offers an array of non-surgical treatments to address issues like vaginal laxity, dryness, and discomfort. This article explores non-surgical vaginal rejuvenation, spotlighting popular technologies like CO2 laser-based treatments (Femilift, Monalisa Touch, and Nu-V), radiofrequency-based treatments (Votiva, Thermiva, and Viveve), and Erbium:YAG and Nd:YAG-based treatments (IntimaLase and Juliet). Whether you're interested in Mona Lisa Touch laser treatment for vaginal dryness, seeking relief from conditions like lichen sclerosus or urinary incontinence, or considering Femilift for prolapse, this comprehensive guide provides insights into cutting-edge technologies shaping the field of non-surgical vaginal rejuvenation. Find Nu-V near you and explore the benefits of Nu-V for a holistic approach to women's health and well-being.
We'll compare these technologies in terms of how they work, their effectiveness, safety, recovery time and side effects, and cost, to help you determine which one might be the best choice for your needs.
1. Nu-V
Technology: CO2
Effectiveness: Mild-moderate
Recovery Time: Minimal downtime
Results Last: 1-3 years
Medical device approval: Yes
Delivered by: Medical professionals
Price: £332 per treatment
Women led and delivery: Yes
2. Monalisa Touch
Technology: CO2
Effectiveness: Mild-moderate
Recovery Time: Minimal downtime
Results Last: 1-3 years
Medical device approval: Yes
Delivered by: Medical professionals
Price: £1,500 to £3,500 per treatment
Women led and delivery: No
3. Femilift
Technology: CO2
Effectiveness: Mild-moderate
Recovery Time: Minimal downtime
Results Last: 1-3 years
Medical device approval: Yes
Delivered by: Medical professionals
Price: £1,500 to £3,500 per treatment
Women led and delivery: No
4. Votiva
Technology: RF
Effectiveness: Mild-moderate
Recovery Time: Minimal downtime
Results Last: 1-3 years
Medical device approval: Yes
Delivered by: Medical professionals
Price: £1,500 to £3,500 per treatment
Women led and delivery: No
5. Thermiva
Technology: RF
Effectiveness: Mild-moderate
Recovery Time: Minimal downtime
Results Last: 1-3 years
Medical device approval: Yes
Delivered by: Medical professionals
Price: £1,500 to £3,500 per treatment
Women led and delivery: No
6. Viveve
Technology: RF
Effectiveness: Mild-moderate
Recovery Time: Minimal downtime
Results Last: 1-3 years
Medical device approval: Yes
Delivered by: Medical professionals
Price: £1,500 to £3,500 per treatment
Women led and delivery: No
7. IntimaLase
Technology: Erbium:YAG and Nd
Effectiveness: Mild-moderate
Recovery Time: Minimal downtime
Results Last: 1-3 years
Medical device approval: Yes
Delivered by: Medical professionals
Price: £1,500 to £3,500 per treatment
Women led and delivery: No
8. Juliet
Technology: Erbium:YAG and Nd
Effectiveness: Mild-moderate
Recovery Time: Minimal downtime
Results Last: 1-3 years
Medical device approval: Yes
Delivered by: Medical professionals
Price: £1,500 to £3,500 per treatment
Women led and delivery: No